---
posted by Silvana
---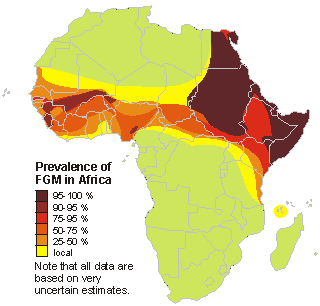 I was instantly annoyed by
this
article in the NYT magazine over the weekend (actually, I was annoyed by it this morning, which is when I read it). The article, about Female Genital Mutilation (FGM), had the following blurb on the front page: "Inside a female-circumcision ceremony for young Muslim girls."
Before even clicking on the link, I knew something was off. Why, after all, say that it's for young
Muslim
girls? Huh, that makes it sound like FGM is associated with Islam. Which, being educated in this shit, I know that it isn't.
Clicking through, I saw that the article focused on girls getting FGM in Indonesia. Which, fine, is a majority Muslim country. But maybe they mention in the article that FGM isn't part of Islam, and that there are plenty of non-Muslim populations where it is very prevalent, and Muslim populations where they don't do it at all?
Nope, that was nowhere in there. In fact, throughout the article it was made to appear as though it was the Islamic religious establishment which was responsible for the prevalence of the horrifying practice. It may be,
in Indonesia
. But it also helps to note that there are many rather conservative Muslim countries, like, say, Saudi Arabia, where FGM is basically unheard of. And non-Muslim populations where FGM is the norm, like many sub-Saharan African countries. Or places like my home country, Egypt, where
everyone
gets FGM, Muslim, Christian, or otherwise (although the practice is losing favor in urban areas).
As an article which is aimed at people who don't have much knowledge about FGM, apparent by the fact that it gives background and explanation of the practice, you might think they could have thought to mention this.
But no, anything to make Muslims look scary and Other and bad! Because they are! Like I've said before and I'll say again, religion is often just a thinly-veiled excuse to maintain cultural norms and enforce patriarchal tradition, rather than the genesis of the norms themselves.
Labels: m. leblanc